Boulder Burgundy Festival: Notes from the Bonneau du Martray dinner at Frasca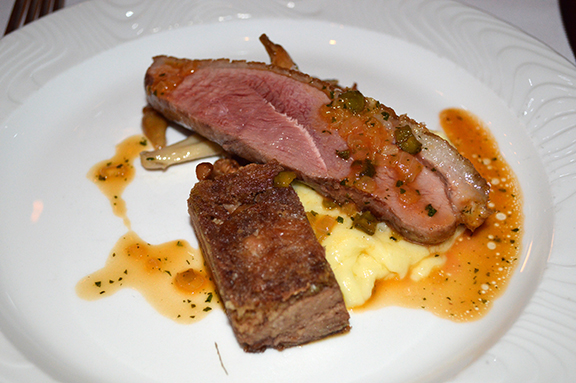 Above: Roast duck breast and leg confit paired with 2001 Bonneau du Martray Corton (rouge), one of the most remarkable pairings of the evening (and thoroughly delicious!).
Food and Wine magazine's executive wine editor Ray Isle (one of the featured speakers at this year's festival) joked on the evening of the gathering's cornerstone event, the Saturday night dinner with Jean-Charles le Bault of Domaine Bonneau du Martray.
"It's my first time eating at Frasca Food and Wine," he noted while speaking with the restaurant's wine director and co-owner Bobby Stuckey, "and tonight it's not an Italian restaurant but a French one!"
Executive chef and co-owner Lachlan Patterson's menu is usually devoted to the delights of Italian gastronomy (and Friulian cuisine in particular).
But on the night of Jean-Charles' visit, he created a Francophone menu especially for the occasion.
Bobby reminded us that before moving to Napa Valley in 2001 to begin cooking at the French Laundry, Lachlan had lived, cooked, and studied in France — honing his skills in some of its most prestigious kitchens — for nearly two years.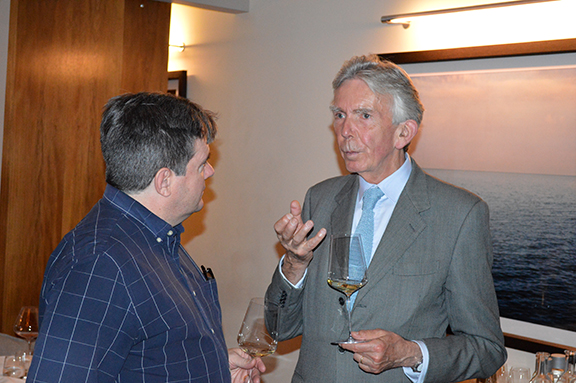 Above: Food and Wine magazine executive wine editor Ray Isle (left) chats with Jean-Charles.
Chef Lachlan's menu and Bobby's pairings follow. What an incredible evening!
Boulder Burgundy Festival 2015
Dinner with Jean-Charles le Bault de la Morinière
of Domaine Bonneau du Martray
October 24, 2015
Quatre plats
Premier
"Galantine"
Boulder Natural Chicken, Black Truffle, Frisée and Cornichon
Bonneau du Martray 2012 Corton-Charlemagne
Deuxième
"Sole"
Petrale Sole, Winter Radish, Parsnip and Tarragon
Bonneau du Martray 2010 Corton-Charlemagne
Bonneau du Martray 2008 Corton-Charlemagne
Troisième
"Canard"
Roasted Duck Breast, Confit Leg, Robuchon Potato and Mushroom
Bonneau du Martray 2001 Corton Rouge
Fromage
La Tur
Piedmont, Italy
Bonneau du Martray 2006 Corton-Charlemagne