Scenes from a "Paulée-inspired" lunch at the wonderful Flagstaff House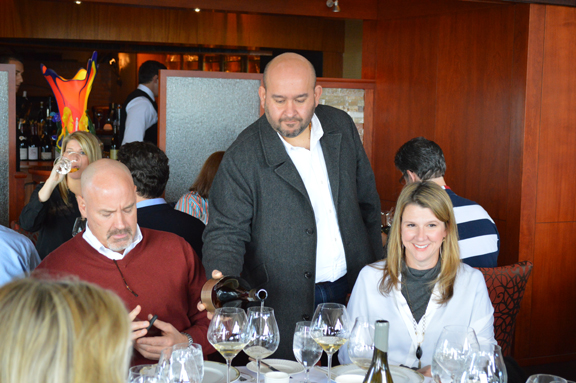 Posting in a hurry this morning, as I prepare to head to the Chablis Brunch at Kitchen Upstairs this morning: an end-of-the-night gathering of sommeliers at Pizzeria Locale kept a blogger up until the wee hours.
But here are a few quick highlights from yesterday's sold-out "Paulée-inspired" lunch at the wonderful Flagstaff House, one of the top dining destinations in the U.S. today.
That's the inimitable Rajat Parr pouring for guests, above.
One half of the restaurant was filled with collectors. The other half with wine trade members. Everyone brought collectible and rare Burgundy from their cellars.
The food was stupendous. Can you imagine a better dish to pair with great Chardonnay?
Festival founder and Master Sommelier Brett Zimmerman (standing, foreground) was remarkably calm despite the challenges posed by organizing a weekend of events for leading American wine collectors and professionals. But then again, with so much top-flight wine being poured so liberally, levity was in order. That's Master Sommelier Bobby Stuckey in the background, pouring.
Those are Flagstaff House owners Don (left) and Mark Monette. Chef Mark's cooking is sensational (more on that later). Super nice people, too. When I asked if I could snap a photo of them, Don said with the biggest smile, "I'm very proud of my son."
We'll be posting more notes from this incredible lunch and other festival events shortly.
Stay tuned… Now it's time to go taste some more Burgundy.