Some spots still available but going fast…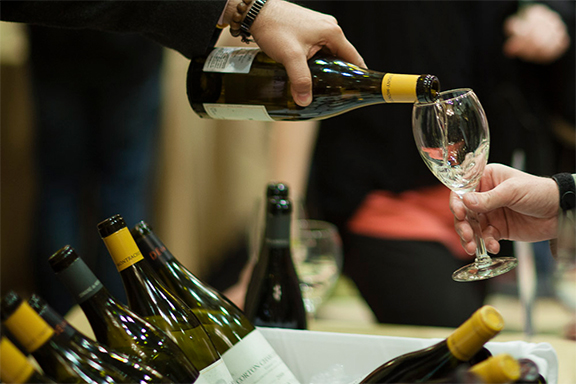 The following events at the Boulder Burgundy Festival (Oct. 22-25) events still have some availability. Click the links below to purchase tickets!
Champagne and Petrossian Caviar Kickoff Party
with food provided by Cured
Thursday, October 22, 5:00-7:30 pm
$75 per person
"Best Value Burgundy Wines" Lunch
Oak Restaurant
Friday, October 23, 11:30 am
$95 per person
(includes tax & gratuity)
Featured Lunch Wines:
2013 Domaine Ferret Pouilly-Fuisse
2013 Moreau-Naudet Chablis
2013 Marc Colin Saint Aubin Village
2013 Francois Carillon Puligny-Montrachet
2013 Bernard Moreau Chassagne-Montrachet VV Rouge
2013 Domaine Joblot Givry Servoisine 1er
2013 Domaine Sylvain Pataille, Marsannay
2012 Montille Beaune Sizies 1er
Old and Rare Burgundy Seminar
at the St. Julien Hotel
with Master Sommeliers Jay Fletcher,
Brett Zimmerman, and Sean Razee
Benefits the Guild of Sommeliers
Friday, October 23, 1:00-2:00 pm
$295 per person
Old and Rare Seminar wines:
1978 Domaine Louis Remy, Latricieres-Chambertin Grand Cru
1985 Faiveley, Nuits St Georges Les Saint Georges 1er Cru
1996 Domaine Bachelet, Charmes Chambertin Grand Cru
1996 Marquis D'Angerville Volnay Clos Des Ducs Monopole 1er Cru
1998 Domaine Philippe Charlopin, Chambertin Grand Cru
1998 Michel Bonnefond (Christophe Roumier), Ruchottes-Chambertin Grand Cru
2000 Hubert Lignier, Clos de la Roche Grand Cru
2004 Alain Hudelot-Noellat, Richebourg Grand Cru
An Element 47 Pop Up
Featuring the Wines of
Génot-Boulanger and Domaine Dujac
Benefits There with Care
Friday, October 23, 6:00 pm
$395 per person
(includes tax & gratuity)
Featuring Wine Director Carlton McCoy, MS; Assistant Food & Beverage Director Csaba "Chubby" Oveges; Executive Chef Matt Zubrod; Chef de Cuisine Matt Padilla and Executive Banquet Chef Keith Theodore.
This dinner will include a vertical tasting of wines from Domaine Dujac and Domaine Génot-Boulanger preceded by a Champagne reception.
Dinner with Jean-Charles le Bault de la Morinière of Domaine Bonneau de Martray
at Frasca Food and Wine
Benefits The Family Learning Center
Saturday, October 23, 6:00 pm
$435 per person
(includes tax & gratuity)
Corton-Charlemagne Grand Cru Seminar with Jean-Charles le Bault de la Morinière from Bonneau du Martray and Ray Isle from Food and Wine Magazine
at the St. Julien Hotel
Sunday, October 25, 11:00 am – 12:30 pm
$150 per ticket
Grand Tasting
at the St. Julien Hotel
with over 200 featured wines
Benefits The Growe Foundation
Sunday, October 25, 3:00 pm – 6:00 pm
$85 per ticket