At Home with Boulder Burgundy Festival, Sunday, November 15.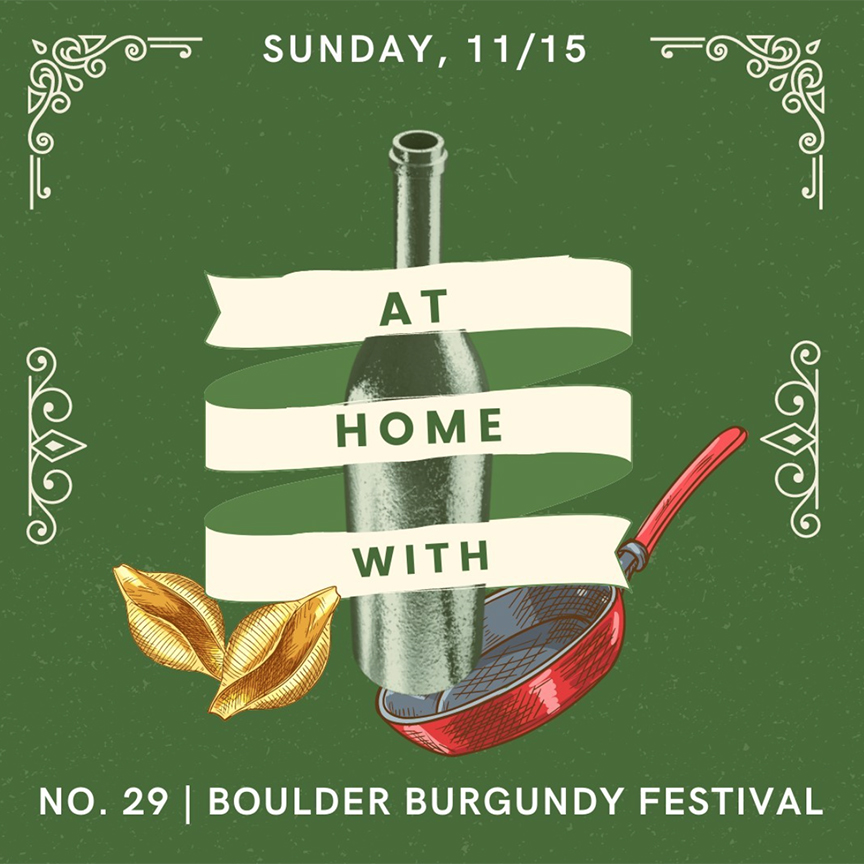 Sunday, November 15
At Home with Frasca Food and Wine

Reservations can be made online HERE.  View menu by clicking HERE. 
Frasca Food and Wine exclusive "At Home with Frasca Food and Wine" ~ A Burgundy-inspired menu with wine pairing.
Scheduled Pickup will be available in Boulder (at Frasca) on Sunday, November 15 from 2:00 – 3:30 p.m. and Denver (at Tavernetta) from 2:00 – 3:00 p.m.
Ordering Deadline: Friday, November 13 at 5:30 p.m. MST. Only 100 meals available.
Dinner for 2: $200.00 + tax & optional gratuity (includes a $25 donation to our charity partners).
Includes full menu & bottle of 2018 Didier Fornerol Côte de Nuits-Villages. This menu contains dairy and gluten. Please email reservations@frascafoodandwine.com or call (303) 442-6966 for more info.
Here's the write-up from Frasca, including notes on the menu, the featured winemaker, and the wines.
Every fall, we have the great fortune of being a part of Boulder's best wine event — the Boulder Burgundy Festival. Celebrating 10 years this year, the Boulder Burgundy Festival is pivoting (as we all are) to an entirely virtual format. We are honored to be a part of the festivities with a truly decadent At Home With.
 Guests will enjoy fresh made brioche and a Frisée salad with Bacon Lardons, Poached Egg & Banyuls Vinaigrette. Chef Eduardo will guide you though crisping the bacon and poaching the egg.
We could not think of a better dish to enjoy with Burgundy than a Heritage Chicken stuffed with Burgundy Truffle, Brioche and Foie Gras. The bird will be stuffed, trussed and ready to roast in home.
To end the evening, you will enjoy Mille-Feuille: Caramelized Puff Pastry, Mascarpone Diplomat Cream and Raspberries.
We're thrilled to have a few extra guests layered into our wine discussion on this week. Join Bobby, Carlin, importer Daniel Johnnes and creator of Boulder Burgundy Festival & Master Sommelier Brett Zimmerman as we take a dive into all things Burgundy with winemaker Didier Fornerol.
Fornerol is one of the quiet superstars of the Côte de Nuits, having worked under Jean-Pierre de Smet as Vineyard Manager at Domaine l'Arlot for years, from 1982 to 1999.
Currently, Didier works his 6 hectares of vineyards in the village of Corgoloin, producing delicious, vibrant bottlings of Pinot Noir, Chardonnay and the often forgotten Burgundian variety, Aligoté. The wines are vivid and full of complexity, proving that there is still value in Burgundy! We will be drinking his 2018 Côte de Nuits Villages Rouge.